The thing is, a well designed and managed digital store can lead to increased sales and profit. There are many reasons to start an online store and in this article we will explain how you can create your own Online Store with great ease.
Why Should You Create Your Own Online Store?
There are many reasons to build an online store, but one of the most important is that it gives you the opportunity to reach a larger audience than you could with a brick-and-mortar location.
Furthermore, an online or ecommerce store can be open 24 hours a day, 7 days a week, and is not limited by geographic boundaries. This means that anyone in the world with an internet connection can potentially purchase your products or services anywhere in the world. In addition to that, starting an online store is often cheaper and less risky than opening a physical business location.
Benefits of Starting an Online Store
No surprise, online store offers many advantages over a traditional retail space, chief among them being lower overhead costs. By not having to pay for rent, utilities, and staff, an online store can operate with a much smaller budget. This also allows digital stores to offer competitive pricing on their products and services, which can attract customers who are looking for a good deal.
Moreover, customers can shop on their own schedule, from the comfort of their own homes. No more driving to the store, dealing with crowds, or waiting in line. They can shop anytime, day or night.
How to Create my own Online Store?
So if you are someone looking to set up an online store and mark your online presence with a green tick, below are the steps you should follow.
NOTE: We assume, you have decided on your business niche or what do you want to sell with your own ecommerce store, if yes then keep on reading. And if you've not decided on categories or business niche to start your business online then read our new article which explains how you can choose categories to sell and start your ecommerce store right away.
Step by step guide to start an online store:
Go to Ecommerce platform QPe's website and start your free trial (You can consider an ecommerce store premium plan later).
When you signup your business online, you will be asked for your contact number. Fill up your contact number, and an OTP will be sent to you. Fill that OTP and login into the web dashboard version which also work on mobile as PWA (Progressive Web Application).
After signup, you need to insert some more details like the name of your business, your name, a logo, and so on.
So fill it with precision and Tap On Done.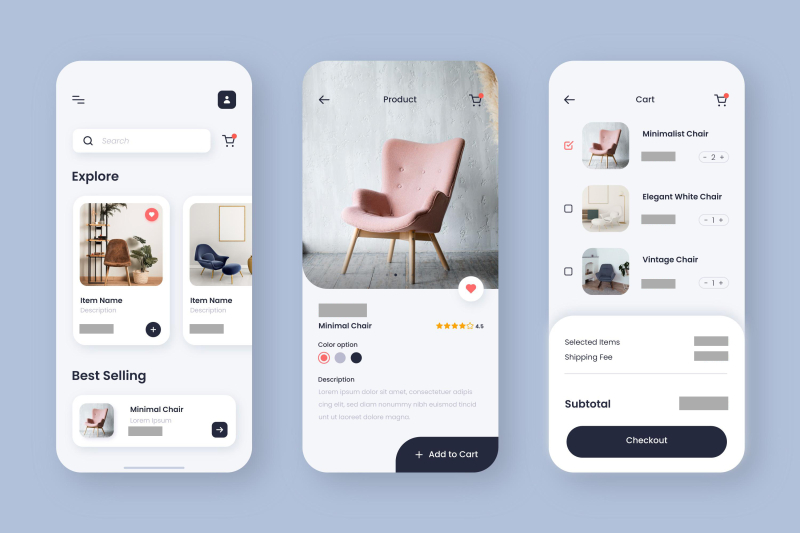 Your ecommerce store has been created successfully. Now it's time to,
Tap on Add Categories
Write the category name, suppose, Main Course, and upload the thumbnail
Tap the active button and press Add
Now click on add products and fill in the exact details- Name, price, selling price, category, thumbnail etc.
Press Save
Repeat the same process till you list all the categories and products in your inventory.
If you're pondering to launch an online business which is going to deal in multiple products categories then you can opt to bulk product upload option provided by QPe. Ecommerce platform's catalog builder allows you to upload products in bulk via an excel sheet or other formats of docs file.
Online Store Integrations (Shipping/Payment)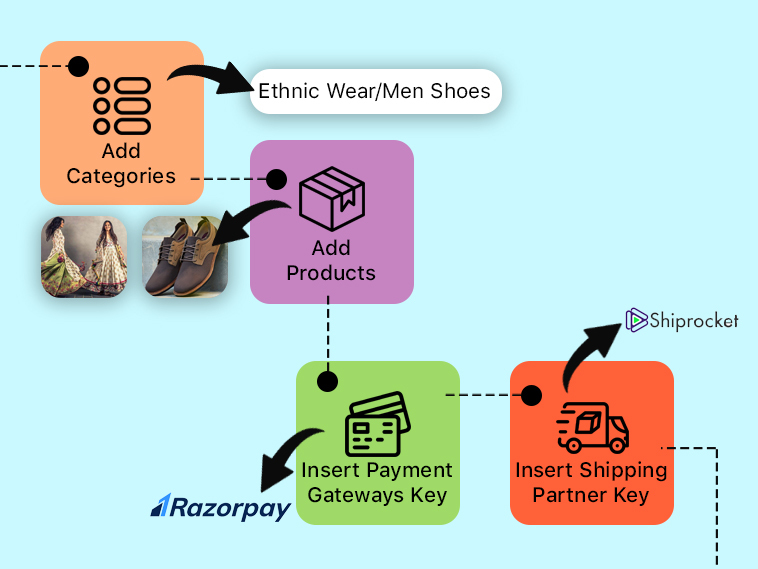 After Completing the process, Now you have to select the Payment Gateway. Go to Store Setting option and choose integration with payment gateway from various options provided.
To get started below are some steps you can follow:
Register your business with Razorpay and Paypal
Tap on Payment Settings
Fill the details that includes- Razorpay ID& Key (for National Payments) and Paypal email, key and publishable key (for International Payments), Payment Options, Currency and Formatting, Tax and Delivery Charge, Delivery Preferences, address preferences (for both national and International).
Click on Save and continue to your digital store.
Now it is time for setting up the shipping partner for easy and fast deliveries, go to the store setting and tap on Shipping:
Register your business with Dunzo, Shiprocket (National Delivery) and FedEx, DHL (for International Deliveries)
Enter the API or the secret key you got in the desired column as mentioned
Click Enter
Choose the option and you're done.
After following all these steps, now you can focus on making the strategies for your online business through the tools and features we provide.
CONCLUSION
QPe is a SaaS-based ecommerce platform that covers all your concerns with its well-designed and effective 360-degree solution provider tools. Whether it is ranking your content or it is the invoice generation, whether it is a social media engagement or it is to bring all your stores on a single QR code, you can rely on QPe for your next move and eventually grow your business.
Build Online Store with Ecommerce Platform QPe
FAQs:
1. How to create my own Online Store?
Creating your own online store requires you to decide on business niche or choose a category to sell. You can sign up and build your own online store for free with QPe's premium plans. All you need to do is, signup with your phone number, insert your business name and upload logo. Your ecommerce store is ready to sell anything, anywhere.
2. Are online stores profitable?
Yes, businesses which have registered their online see almost 30-60% percent of their annual revenue coming from ecommerce stores they have created. So online store are profitable in today's digital or ecommerce era.
3. How much does it cost to start an online store?
It is totally free if you start your trial and create an online or ecommerce store with QPe. On a positive note, you don't have to give commissions on any order you ship with your online store powered by QPe.
4. What are the top online business ideas?
There are many online businesses that are good to go. Here are some of them:
Dropshipping
Teaching Classes
Freelancing Content Writing
Digital Marketing Services
Selling Handmade Goods
Click here for more.